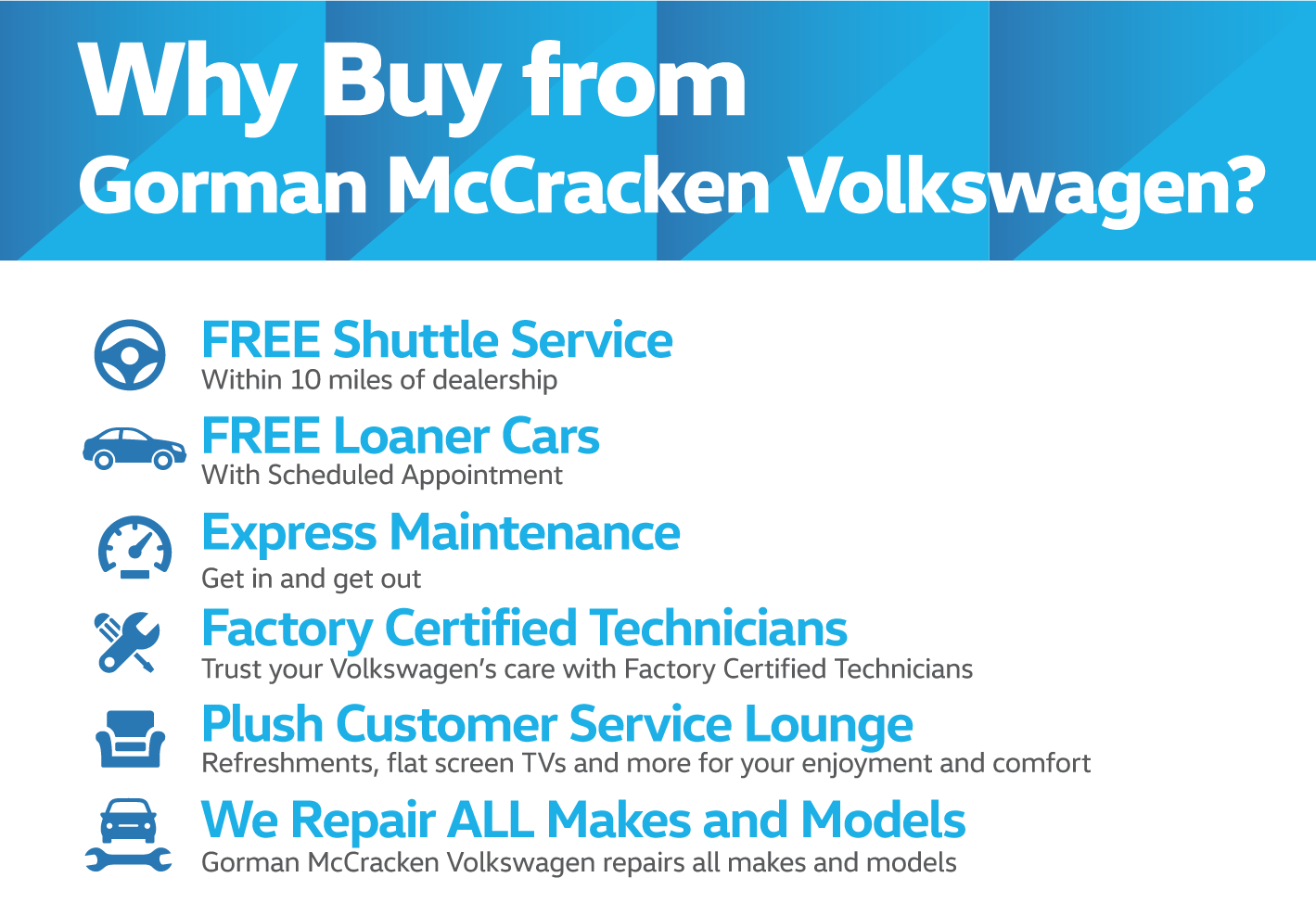 Why Choose Gorman McCracken Volkswagen?
Exclusive Selection of Volkswagens in Longview, TX
We have an extensive selection of stylish new Volkswagen models, including the ever popular Passat and Jetta, for all of our customers to look at. You can even get behind the wheel of any new Volkswagen or Certified Pre-Owned VW for a test drive today. Or you can use our website to research and find out any information that you may need to know about the vehicle that you have your eye on. In addition to our exclusive new Volkswagen inventory, we also have a wide selection of used vehicles from a variety of top-quality manufacturers.
Our Spectacular Gorman McCracken VW Sales Team
We know that at many places buying or leasing a new car can be a long process. However, at Gorman McCracken Volkswagen we want to make this process as easy and hassle-free as possible. When you walk into our dealership, we always greet you with a smile and are eager to show you any vehicle that you have a desire to see. When you have decided on a vehicle to lease or buy, then we will guide you through each step of the process and give you all the information that we can so that you are fully informed. At Gorman McCracken Volkswagen we put you, the customer, first. Our job is to go above and beyond to make you happy. You'll find our knowledgeable and friendly staff is here to serve you.
Professional Service Team at Gorman McCracken Volkswagen
When you need service done on your vehicle, our technicians at Gorman McCracken Volkswagen are delighted to provide you with the top-notch auto service. We are dedicated to getting you back out on the road as quickly as possible with high-grade parts and mechanics that have the tools, technology and knowledge to get the job done right the first time. We don't settle for anything less than perfection. So when it's time to get your vehicle serviced, rest assured that you put your vehicle in the trusted hands of our mechanics at Gorman McCracken Volkswagen. We will get the job done right for you. From tire rotations to full-body repairs, we can do it all! There is no need to waste your time and money on low-quality parts and service. You should invest your time and money into a dealership that is eager to help maintain your vehicle the right way. Schedule your service appointment at Gorman McCracken Volkswagen in Longview, TX near Henderson, Tyler, Marshall, and Gladewater. Come see us today for top-quality service!