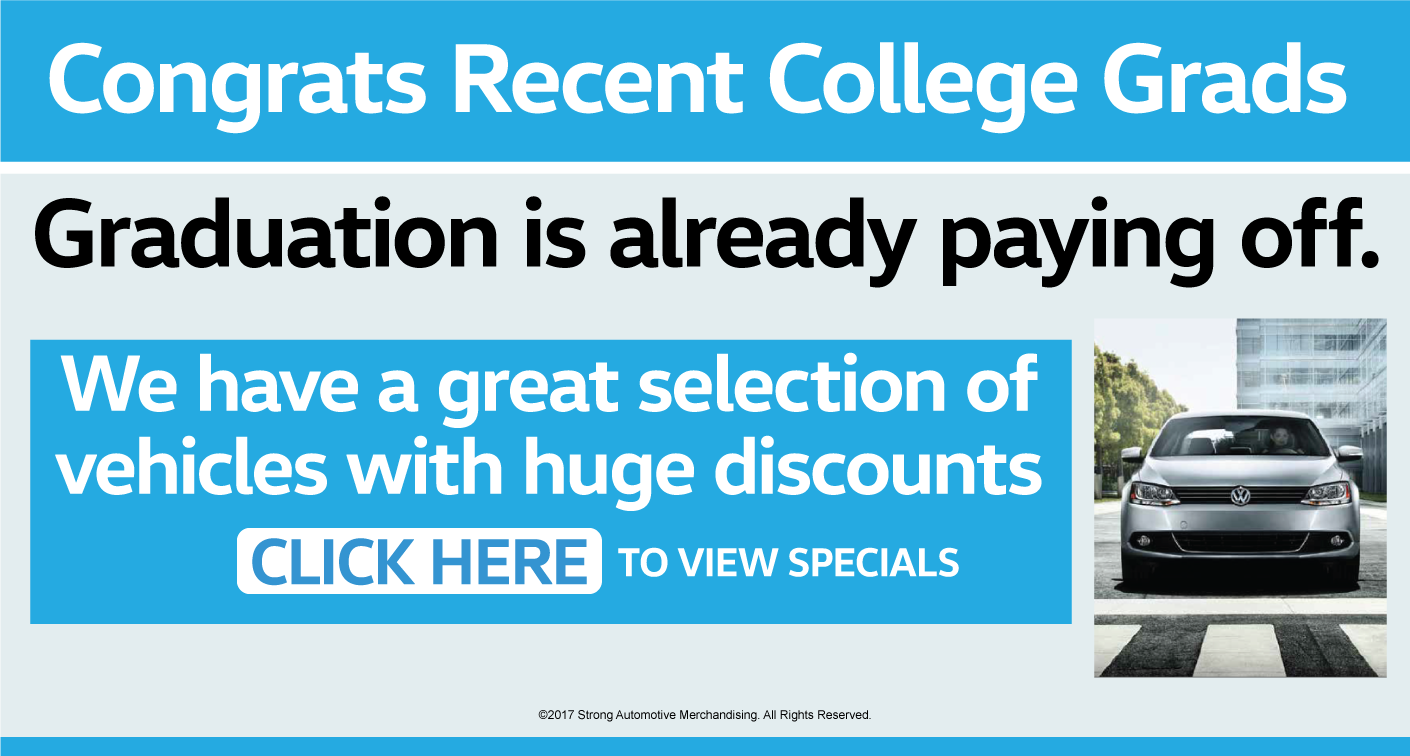 College Graduate Discount in Longview, TX
We think graduating college is an achievement worth rewarding, and that's why we offer our College Rebate Program to all college graduates! It's entirely designed around helping you buy or lease a new Volkswagen. When you come to our dealership, you will receive a $500 contract bonus when you purchase or lease any new Volkswagen vehicle through Volkswagen Credit. You can get competitive rates and stellar discounts on your new Volkswagen even if you have a limited credit history. Credit history is not required to purchase or lease your vehicle, but if you already have an existing credit score, then it must be in good standing. When you are ready to seal the deal, there is also no security deposit required on any new leases. Come by Gorman McCracken Volkswagen today so you can take advantage of this exclusive offer to save big on your new Volkswagen.
Who is Eligible?
In order to be eligible for this exclusive deal, there are just a few requirements that we have. You'll need to meet the following prerequisites to get behind the wheel of your new Volkswagen:
You have graduated within the past 24 months, or will graduate in the next 6 months from an accredited United States or Canadian college or university.
You are a United States citizen or permanent resident.
You have a full-time (permanent) job, or have a written commitment from your future employer.
What Documentation Will You Need?
When you visit your nearest VW Dealership, there are just a few pieces of information that you will need to provide as proof that you are eligible to drive, that you have or are going to graduate, and that you are employed. You'll need to provide:
Your valid driver's license
Proof of insurance and agent contact information
A copy of your degree or transcript and contact information for your college or university
Proof of income and full-time employment as well as contact information for a human resources or payroll representative
Two complete personal references (including address and phone number) who reside in the U.S. and that Volkswagen Credit can contact directly
Claim Your College Discount at Gorman McCracken Volkswagen!
Are you a college grad looking at a new Volkswagen in the Longview, TX area? The staff at Gorman McCracken Volkswagen is eager to meet you, congratulate you on your success in school, and offer you our college grad discount! If you have any questions about the college grad discount, or if you have any questions about any of the vehicles that we have under our roof, then give us a call at (844) 213-4980, contact us online, or come by our convenient location in Longview, TX near Henderson, Tyler, Marshall, and Lyndale.